Chapter 10, Section 1 - Continental Drift                                                                                                                                                
1912 - Alfred Wegener proposed the idea of Continental Drift.
Continental Drift - The hypothesis that a single large landmass broke up into smaller landmasses to form the continents (during the Mesozoic Era, about 200 million years ago), which then drifted to their current locations.
Evidence for continental drift:

The edges of the continents seem to fit together like puzzle pieces (Africa & South America).
Fossils of the same plants/animals were found on different continents (with no land bridges).

Mesosaurus skeletons found in Africa and South America.

Ages & types of rocks on east coast of S. America and west coast of Africa match closely.
Mountain chains that end on one continent seem to continue on another.

Appalachians in N. America, mountains in Greenland, Scotland, northern Europe.

Evidence of glaciers in southern Africa and S. America.  (Too warm there for glaciers now.)
Fossil evidence of tropical/subtropical swamps in area that are now much colder.

Wegener's ideas were opposed by most scientists because he could not demonstrate the mechanism by which continents could move.
1947 - A team of scientists set out to map the Mid-Atlantic Ridge (part of a global system of mid-ocean ridges).
Mid-Ocean Ridge - A long, undersea mountain range that has a steep narrow valley at its center, that forms as magma rises from the asthenosphere, and that creates new oceanic lithosphere (sea floor) as tectonic plates move apart.
Important discoveries...

The sediment on the ocean floor gets thinner and younger as you get closer to the mid-ocean ridge.  Sediment farther away is thicker and older.  

Sediments dated by studying remains of tiny organisms embedded in it.

The ocean floor is very young.

Continental rock are up to 4 billion years old.  No oceanic rocks are more than 200 million years old.
Radiometric dating shows that rocks closer to the ridge are younger than rocks farther away.
late 1950's - The hypothesis of sea-floor spreading was proposed by Harry Hess (named by Robert Dietz).
Sea-Floor Spreading - The process by which new oceanic lithosphere (sea floor) forms when magma rises to Earth's surface at mid-ocean ridges and solidifies, as older,existing sea floor moves away from the ridge.
Hess suggested that this was the mechanism for continental drift.
mid-1960's - The study of paleomagnetism provides evidence to support sea-floor spreading.
Paleomagnetism - The study of the alignment of magnetic minerals in rock, specifically as it relates to the reversal of Earth's magnetic poles; also the magnetic properties that rock acquires during formation.
Iron-rich minerals in magma align with the Earth's magnetic fields.  As the magma hardens, the orientation of the minerals becomes permanent.
The orientation of magnetic minerals shows that the Earth's poles have reversed repeatedly throughout Earth's history.

Rocks with normal polarity have minerals that point north.
Rocks with reversed polarity have minerals that point south.
Geomagnetic Reversal Time Scale - The chronological pattern of normal and reversed polarity shown in rocks.

Magnetic patterns in sea-floor rocks mirror each other on opposite sides of the mid-ocean ridge, with youngest rocks closest to the ridge.

Shows that new rock forms at the center of the ridge, then moves away in opposite directions.

Later, similar patterns were found in continental rocks.
Chapter 10, Section 2 - The Theory of Plate Tectonics                                                                                                                          
Plate Tectonics - The theory that explains how large pieces of the lithosphere, called plates, move and change shape.
Lithosphere
- The solid, outer layer of Earth that consists of the crust and the rigid upper part of the mantle.  
(See more in Chapter 2.)
Tectonic Plates
Earth has 15 major plates and several smaller ones.
Earthquakes and volcanoes often occur along the edges of plates, so can be used to locate plate boundaries.
Plates can be formed of continental crust, oceanic crust, or both.

Continental crust is mainly silicate rock (granite), so is lighter.
Oceanic crust contains more iron and magnesium (basalt), so is denser.
Plate Boundaries
Divergent Boundaries

Between plates that are moving away from each other.
Occur at mid-ocean ridges.
Magma rises to the surface, cools, and forms new lithosphere.  (See sea-floor spreading in 10.1.)

Convergent Boundaries

Between plates that are colliding.
Three types of collisions...

Continental crust collides with continental crust.  The edges of the plates crumple, forming mountains, such as the Himalayas.
Continental crust collides with oceanic crust.  The oceanic crust moves under the continental crust (subduction).

This forms a trench at the subduction zone.
Heat from this movement, along with fluids added to the plate, cause rock to melt and push upwards to form volcanic mountains, such as the Andes.

Oceanic crust collides with oceanic crust.  One subducts under the other, forming a trench and and island arc, such as Japan or the Aleutian Islands.

Transform Boundaries

Between plates that are sliding past each other, such as at the San Andreas Fault.  (No magma involved.)
Fracture zones - transform boundaries that connect segments of mid-ocean ridges.
Causes of Plate Motion
Mantle Convection

Convection - The movement of fluids due to differences in temperature.
This is the primary force behind plate tectonics.

Ridge Push

Rock forming at mid-ocean ridges tends to start out light, and become denser.  This causes it to slide down the slope, pushing the plates away from the ridge.

Slab Pull

As a plate moves into the mantle at a subduction zone, it exerts a pull on the rock behind it.
Chapter 10, Section 3 - The Changing Continents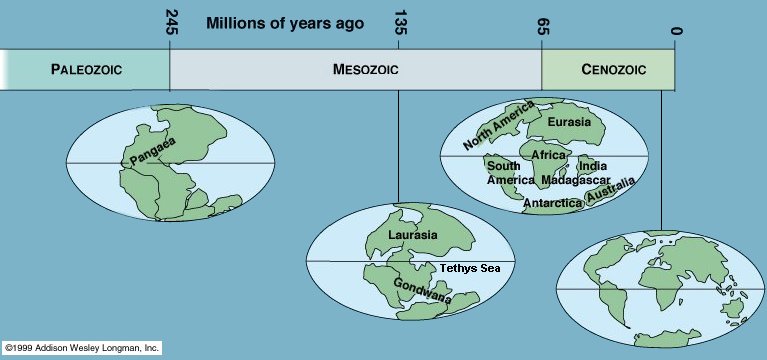 The continents did not always look as they do now.
Continents contain...
Cratons - Large areas of stable rock, older than 540 million years.

Shields - Rocks within cratons that have been exposed at the surface.

Terranes - Pieces of lithosphere with unique geologic histories, and which may be part of a larger piece of lithosphere (such as a continent).

Contain fossils that differ from those found in neighboring terranes.
Have major faults along their boundaries.
Have magnetic properties which generally don't match those of neighboring terranes.
Most continents consist of cratons surrounded by terranes.
Rifting - The process by which Earth's crust (oceanic or continental) breaks apart.
Why do continents break apart?  Answer uncertain, but here's the theory...

Continental crust is high in silica => acts like an insulator, trapping heat from below.
As heat builds up, continental lithosphere thins and weakens until it finally begins to break apart.
Accretion - The process by which terranes are added to continents.
At subduction zones, terranes can get scraped off of

 the subducting plate and added to the overlying (continental) plate.

This can form mountains, or just add to the surface area of the continent.
Major mountain chains form when large terranes and continents collide.  (Himalayan Mountains => collision of India and Asia)
Effects of Continental Change
Changes in climate due to...

location of continent (distance from equator).
location relative to oceans and other continents.
mountain ranges (affect rainfall - "rain shadow").

Arrangement of continents affects the movement of air and water around the Earth.
Changes in living things due to...

Natural selection due to local climate.
Divergent evolution as populations are isolated.
The Supercontinent Cycle
The process by which supercontinents form and break apart over millions of years.
Pangaea - The supercontinent that formed 300 million years ago and that began to break up 200 million years ago.
Panthalassa - The single, large ocean that covered Earth's surface during the time that Pangaea existed.

Tethys Sea cut into one side of Pangaea.  (Will eventually form Mediterranean Sea.)
Break-Up of Pangaea

200 mya - Separated into two continents...

Laurasia (North America and Eurasia).
Gondwanaland (South America, Africa, Australia, Antarctica).

150 mya - Atlantic Ocean started to form from rifting.

Current continents separated and started drifting towards current positions.

50 mya - India collides with Asia.
In the future, the continents will eventually come back together to form a new supercontinent.
Resources
Pg. 286-287 #6-23, 33-35.